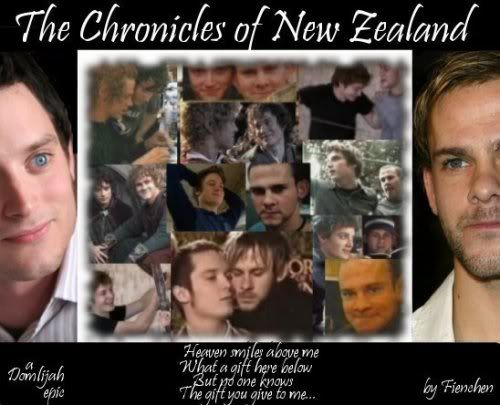 Title: The Chronicles of New Zealand
Author:
fienchen
Pairing: Domlijah
Rating: NC 17 (for series)
Summary: Elijah Wood and Dominic Monaghan meet in New Zealand and fall in love during filming "The Lord of the Rings". As their relationship develops the problems and obstacles increase, but of course nothing stands in the way of true love.
Author's note: This work is pure and utter fiction and the product of my vivid imagination. Special thanks to my lovely beta
spikessweetgirl.
Chapter: 49
Word count: 5201

Previous chapters




Chapter 49



The city of Wellington offered a vast range of bays and beaches. New Zealand's capital usually wouldn't be considered a hotspot for beach activities, but it could easily compete with places like Australia or Hawaii. Whether it be surfing, scuba diving or swimming, if one was looking for walking and tramping tracks or simply preferred some relaxed sunbathing – strong waves and perfect locations for sports, calm waters, secluded bays or stunning beaches, whatever the liking was, there was a beach for everything. The spring sun of early October wasn't very strong, but it spread a pleasant temperature.

Usually Dominic would have headed for one of the beaches with ideal conditions for surfing on his day off. It had become his favorite new sport and not just his. Him and the other guys didn't do it nearly often enough. Luckily the final months of shooting would be in the warmer seasons, so maybe they would get some more opportunities. But today surfing wasn't on Dominic's mind. Today he wanted to do something else. And for that he needed a peaceful, uncrowded area. So he had driven to one of the beaches on the Eastbourne coastline area of Wellington and walked across the soft, fair sand, in search of the perfect spot. A pile of paper sheets was tucked underneath his arm and his fingers were playing with a pen. He looked around. It wasn't difficult to feel creative in a place like this. The gentle sounds of the sea, the seemingly endless horizon, the light breeze that tousled his hair...his surroundings provided the ideal conditions for Dominic in order to let his thoughts run free. And there was a lot he wanted to put down on paper.

He found a deserted spot, away from the few people who had found their way to the beach in the middle of the week. Lowering himself down on the warm sand, Dominic leaned back against a small rock and positioned the sheets against his bent legs. Then he pulled his sunglasses out of the pocket of his shorts and slipped them onto his nose. Nobody was sunbathing, it was still a little too chilly for that, but Dominic spotted a couple of strollers, joggers and cyclists. The serenity of the scenery engulfed him as he tried to reflect everything that had happened during the past year in his life and put it into some kind of order. Dominic had found out that the best way to start writing was to just start writing. Once you saw the first word in front of you in black and white, the rest would pour out of you. He looked at the blank page that was about to get filled with his most inner thoughts and feelings. A clean slate, symbolizing a new beginning. Dominic lowered the pen onto the paper.

I hope my diary is not feeling all too neglected and lonely, but if I was writing all this into it, I would probably need three more journals. Plus, a diary is for your daily daily experiences and thoughts.
It's October 4th, 2000. I'm sitting on a beach in Wellington, New Zealand, the most beautiful country in the world. Almost a year ago we started principal photography for The Lord of the Rings. We being the awesome crew around Pete, Fran and Philippa and the thousands of dedicated people behind the scenes. And we being the cast I'm over the moon lucky to be a part of.
I remember my very first day in New Zealand like it was yesterday. But in order to do this entire experience justice, I have to go further back. About ten years ago I was a little boy from Manchester, born in Berlin, whose family had no business with the show business. My dad is a science teacher and my mum a nurse. My brother, just a little over a year older than me, is now a teacher with a great passion and interest for music. He travels a lot and is a true cosmopolite. I'm convinced he'll become a music artist one day, once he's grown up. Heh. I wanted to become an actor after I had seen Star Wars for the first time. I'm sure I wasn't the only little boy with that wish, but somehow I managed to fulfill this dream. I went to college and studied literature, geography and drama. I put all my heart and energy into these classes and it was so worth it. I used to do lots of theatre and eventually someone discovered me and I got a comedy sidekick role in a TV version of Miss Marple. I was 19 back then and when you think about it...that was merely five years ago and I'm still bloody young. I'm turning 24 in two months and sometimes I can't believe how far I've made it from there when other actors have to struggle so much longer. And then I wonder...am I worth it?

Dominic stopped writing for a moment and re-read the words. It was refreshing not to do this at a computer where you could easily edit what you didn't like or you could put things into a different order when you were done with writing. He didn't muse opon the style or how he created a certain sentence to make it sound particularly great. All he had was the paper, the pen and his mind. What he was writing wasn't addressed to anyone. It was simply a way to release his thoughts and emotions and to pour them out in the shape of words.

Am I good enough? Maybe not, but I'm doing my best. You can always improve. I'll never forget when I got that call from my agent. I was in France filming a television drama and I was so brassed off by the end of that day. That embarrassing scene...I thought I would be stuck with shite like that for the rest of my life. And then my agent called and said the role of Frodo, the one I had auditioned for, had gone to a certain Elijah Wood. If I had known back then. I don't want to write about Elijah yet. If I start now, I'll forget to write about the rest. Yes, there is a rest, believe it or not. I got the role of Merry and ended up in New Zealand. It was the turning point in my life, in so many ways. At that time I didn't know yet what it all would mean for me. Well, I knew that I would be a part of this huge trilogy, but that was it. I didn't know any of the other actors, I hadn't even heard of many of them before, I didn't know if we would get along, I didn't know what New Zealand was like. Of course, as an actor you never know any of those things beforehand, but usually you don't spend almost one and a half years filming three movies back-to-back, with such a big ensemble cast. Fuck, usually you don't get to be in an adaptation of the Lord of the Rings in the first place! So, I dived into this adventure and it turned out to be my greatest experience so far.

The pen stopped moving once again as Dominic looked up and into the distance without really seeing anything. His mind was off somewhere else. In another time. He smiled. Sometimes it was hard for him to remember what he had thought about Elijah before he had met him and fallen in love with him. This talented, often inscrutable former child star who didn't consider himself a star which made him even more lovable.

A single surfer suddenly caught Dominic's attention. The waves weren't very big at this beach, but he made the best of it and looked quite practiced. A smile lingered on Dominic's face as the memories whirled around in his head. All the stuff he and the other boys had tried out, all the innocent as well as wild and wicked fun they had had. The words came flowing again…

I met all these wonderful people and we became close, tight friends which is rather unusual in this business. I'm convinced I'll remain in touch with these guys for the rest of my life. Billy is like the twin brother I never knew I had. I didn't think it was possible to love someone so dearly as a friend that you consider them your brother in spirit. But we are. Even though he's a bloody Scot and I'm from England! We're supposed to hate each other! Heh, all those clichés. Orlando is like this fresh, excited bloke, I think "big kid" describes him best. We're the same age and we both enjoy adventure sports like snowboarding and surfing. He also loves chasing girls. So did I, but not anymore, as you can imagine. Strangely he also thinks he's the prettiest member of the Fellowship. Ahem I'm sorry Orli, that title goes to someone else. He's not a Brit and he's got the most beautiful eyes ever. Viggo is…simply Viggo. Artist, musician, awesome awesome actor, incredible sense of humor. And he's Aragorn. I mean, he IS Aragorn. He's practically always in character and even carries his sword wherever he goes. Pete even called him Aragorn a few times on set and nobody noticed. It was just normal. He also got me interested in photography which I think I'll pursue some more from now on. He manages to capture the most precious moments in a photo.
It may sound weird and cheesy, but I have no doubt that we all were meant or destined to meet and become friends forever. We're going through everything together here. We spend 15 hours a day, seven days a week, with each other. We fight and we laugh and we cry and go through every single level of emotion. We do things you don't get to do as an average person, we fly into storms in planes and land in airports at three in the morning, we go up in helicopters, fly over whales and dolphins, we bungee jump and go surfing, we took part in a bathtub race, we go on holiday trips to Australia and Thailand…the list is endless. Even though we work together six days a week, we don't spend our days off on our own. We don't get sick of one another. At least we haven't yet. I kind of believe in reincarnation and all that stuff, and I feel I cannot have made these friendships by chance. I feel we have met before and it was our destiny to come together.
This is one of the things I value the most since coming here. There's something else that surpasses everything, but that will have to wait. First I'd like to put down where I think my life is taking me career-wise. I already mentioned what I did before I landed this role. It wasn't really anything worth talking about. Actually I think it's kind of a miracle that I got discovered at all. I mean, what was I doing? I had all kinds of jobs before I really started with acting, from cooking to sorting mail. Then theatre and that led to TV jobs that led to THIS. How did that happen? I always wanted it, but now I have no idea how I got there. I mean, I'm not the greatest actor. I have potential and maybe with a little more time I can develop properly. It's like Elijah said, I'm still young and at the beginning. There's still a lot ahead of me. We often speculated about what might be after Fellowship hits the theatres. Basically there are only two possibilities. Either it becomes a huge hit and mega success, or it flops mercilessly. There's nothing in between. It could either make or break us which is kinda scary. Especially if you're one of the unknown actors who have never done anything big before this and who haven't had the chance to establish themselves in the industry yet, so anyone whose name isn't Elijah Wood, Viggo Mortensen, Liv Tyler, Ian McKellen, Christopher Lee, John Rhys-Davies or Sean Bean. No, Mr. Astin, The Goonies wasn't enough. However, deep inside I feel that the films will go like a bomb. Pete is an absolute genius. If anyone can pull this off, he's the man. He's probably the biggest Lord of the Rings fan alive. Deep in his heart he's a hobbit himself, so that makes him precious (pun absolutely intended). He even loves walking around barefoot, no matter how cold it is, and he never ever gets mad. And he loves food. Sometimes it gets stuck in his tangled beard which is quite practical, so he can save some for later. And the cast is equally amazing, so what could go wrong? It's supposed to be impossible to turn the books into films, but I don't think so. Not with these people who work so hard every day and with so much dedication.
When we're finished with filming I'm going to relocate to LA. I don't have any doubts about it. Elijah asked me to move there and how could I say no. I hadn't really thought about it until then, but it's the only right thing to do. For personal as well as professional reasons. Maybe it's a little megalomaniac, but hey, why not? Hollywood is the biggest thing you can achieve as an actor, it's the centre of the film industry and if you make it there, then you've really made it. Even if I didn't have Elijah, I would go there. If I become famous after Lord of the Rings and Hollywood producers offer me more roles, it's better if I live right there anyway. It's where the jobs are. I could also stay in England and continue acting in British productions, but it's not what I really want. The real big opportunities are in America. I may not be Jude Law or one of those other beaus, but I wanna show that I have talent and that I can pull off the right roles. I'm very hopeful and fairly certain that I won't regret it. I won't regret leaving England anyway, not when I know what I'll have in LA…

Dominic lifted the pen and moved his hand around as it had gotten slightly stiff from writing the last long passage. The surfer had moved on to another part of the beach, but Dominic could still see him. He was really looking forward to going surfing with the other guys again now that it was getting warmer. There was nothing like surfing in summer, though he didn't mind the coldness during the other seasons. They had wetsuits after all. And Elijah in a wetsuit was always a sight to die for. Dominic grinned and tucked the sheets that were already filled up with writing behind those that were still white and empty.

I came here to New Zealand to shoot The Lord of the Rings, and I thought it would be the best and biggest thing that would await me here. When I got the call from my agent, I nearly jumped through the roof of my trailer. I hadn't gotten the role I had originally auditioned for. That one went to Elijah Wood. At that time I knew he was a former child star in America who had done movies with the biggest names, like Tom Hanks, Mel Gibson or Kevin Costner. I knew he was talented and that he would be a wonderful Frodo. But of course I didn't know what he was like in private, as a person. He was a star, even though he still doesn't think so. He was one of the bigger names in the cast, so I wasn't quite sure if he would be nice or if he would be some stuck-up, spoilt diva. I was nervous before meeting him. I remember how I landed in Wellington and first went to Pete and then to the hotel. That's where I saw him for the first time. Well, off-screen, that is. I arrived at the hotel and he was standing there, in front of the entrance, smoking. I stopped walking and just looked at him for a moment as he hadn't noticed me yet. He seemed to be completely lost in thought and they were not positive thoughts. I came to realize that something was wrong during the next weeks. Finally we looked at each other and it just felt right from the very beginning on. It wasn't that "love at first sight"-fairytale bullocks. It was way too complicated and difficult. And I don't believe in stuff like that. I mean, you have to get to know a person before you fall in love with him or her. Everything else is just physical attraction. We got along right from the start and became tight friends. Just like with Billy and Orlando when we got to know them. When I came back from finishing Renard in France, I visited Elijah in his house in Wellington. We chatted about music and bugs and passions and I once again noticed that something was bothering him, though he struggled not to show it. But I knew I had to find out what it was. It took him quite some time to confide in me and tell me what was going on. He was afraid that he would fail and that he wouldn't be able to play Frodo. He seriously considered dropping the role. I was so happy that he could finally tell me everything. I wanted to help him so badly and I finally could. I managed to lift him out of that dark hole he had fallen into, and I think that day changed a lot between us. He regained his courage and found someone he could trust and talk to and he got rid of his fear. When I helped him up, something flashed through me and I swear I could see it in his eyes as well. Up until today I don't know what it was. It was just magical. Like something was starting to build. Everything changed in the following weeks. We got even closer and tighter and the best of friends. Not friends like Billy and I were. I love fooling around with Billy and taking the piss and everything. But with Elijah it has always been on a completely different level. I realized what level very early and I found myself falling deeply and irrevocably in love with him. My diary is full of gushing over him, there's nothing I haven't written down yet. From his sweet, lovely, caring, wonderful personality to his breathtakingly beautiful looks. I had been in love before, with girls and with other blokes. But nothing came even close to what I was feeling for Elijah, what I'm still feeling for him and what's growing day by day. It's scary sometimes. And it's a miracle that we found our way to each other in the end, after all the crap that was against us. It was anything but easy. It took Elijah a lot of time to come around and accept his homosexuality. That was a huge step for him, especially if you consider our situation. We're actors, we're part of the superficial show business. He grew up in this business, so he knows it inside out and knows the way gay actors are treated. After our first kiss at Lake Te Anau he struggled to ignore his feelings. I knew it was in vain, that he would never be able to deny who he was. It hurt like hell, seeing him turn away from me, and from himself. He thought his feelings would go away if he didn't think about them anymore. Of course that was total bollocks. But after a few days he changed his mind and came to me and I felt like I was the luckiest, happiest person in the world. Sometimes I wonder why I wanted to be in this business so much. Not everyone is like Peter Jackson. I haven't worked in Hollywood, but I heard enough stories and I can imagine how it works. There are people who don't give a shit about you, who deny you roles because you don't fit into their shallow scheme. I hate intolerance, I hate ignorance, and I hate this Goddamn sodding homophobia. People like Elijah suffer because of it, and I would sometimes love to take those Hollywood big boss wankers and punch them into next week. They don't get what damage they cause. But I can't do that. I can only thank whatever higher power there is that Elijah made the right decision in the end. Anything else would have ruined him. But that was then and now is now. It only matters what we have now and fact is that I couldn't be any happier. It's almost uncanny how well things are going right now. Next month will be our first anniversary. One year, November 13. A year isn't really that long, but long enough for you to be able to realize certain things. At least for me. We've been working together and spending our free-time together and practically lived together even longer than a year. Well, not living together, but you know what I mean. It's like we've already settled down here. I don't deny that there's still a lot I don't know about Elijah. There are things you only get to learn when you really live together or spend more time with each other without having to work, without having to be separated because one has to film on this set and the other has to film on that set. And I'm very curious to learn about those things. Right now we're in the middle of this huge blockbuster which attracts so much media attention, giving interviews, doing photoshoots, the whole program. I know it will become even more once the promo circle starts and all. But I also know that we can manage to settle down, have a more peaceful life and explore each other some more. It's another big step for us, and he's the only one I wanna take it with. I said November 13 is our anniversary, but that's not quite true. It's the day of our first kiss. We got together a few days later. Elijah actually had a lot of personal issues to overcome and I'm so incredibly proud of him. He was only 18 when we got together, when other boys his age would have broken down. He didn't see it back then, but he's got a mental strength that others can only dream of. If it wasn't for this strength, he wouldn't have been able to see and accept his true self. He would still be in denial and he wouldn't have come to me, in that hotel room in Queenstown. It was up to him and him alone. I couldn't take him and shake him and force him to stop denying his feelings. He worked it out for himself, on his own, and it only makes me admire him even more. There's a lot I admire about him and not just because I love him and might be totally biased. The way he handles his fame, how he managed to stay sane as a child star in Hollywood, his amazing acting talent and his professional working style. I'm his teacher concerning gay relationships, but he's my teacher concerning Hollywood and acting careers. We complete each other in many ways. We have a lot of things in common, but we're also quite different. We love music, video games, movies. He's basically pretty reserved, rational and levelheaded, though in the right company he lights up like a bulb and tends to turn into the complete opposite. Billy and I can tell a bunch of stories there. I'm more outgoing, cheeky and love playing it up for the cameras. We're like this perfect mixture, you know. It's always exciting.
If I wanted to write everything down, I would still be sitting here tomorrow. How can you put your feelings into proper words anyway? It's impossible. How are you supposed to express that you found your soulmate in this other person? That you think about him and long for him every time you're not with him, that you feel this tingle whenever he looks at you and smiles at you with those gorgeous eyes and enticing lips or when you just think of him? I don't want to let him go ever again. I'm probably repeating myself, but I've never loved anyone more in my life. It's as simple as that. I love you, Lijah. Now and for always.

If Dominic had thought his hand had gotten stiff before, it was nothing compared to now. He had written non-stop for the past fifteen minutes, his stream of thoughts just flowing from his head through his arm and onto the paper. Looking at the last words, he couldn't help but smile. He had wanted to write about his experiences in New Zealand, where his life seemed to be taking him, and it had turned into a love letter at the end. Of course it would turn into a love letter. Elijah was the biggest and best thing that had happened to Dominic since he had come here. Though Dominic would never let him read it. He wouldn't let anyone read what he was writing today. It was just for him, to figure out the meaning of these experiences and the impact they had on his life.

Dominic stretched out his legs and lowered the sheets onto his lap. Taking off his sunglasses, he blinked against the rays of the sun which now felt a bit warmer to him than before. The surfer was not in sight any longer and there were hardly any people around anymore. The tranquility warmed him almost as much as the sun did. Dominic leaned forward and rubbed his back. He hadn't even noticed how much the hardness of the rock he had been sitting against had been digging into his bones. Shifting a little, he lay down on the soft sand and crossed one arm behind his head as he looked up at the sky with its few clouds. Elijah wasn't far away. He was filming with Sean in the Wellington studios. Dominic wanted to go there later and watch. He loved watching Elijah act, but he didn't get to see it that often. Not in scenes that didn't involve all four hobbits of course. He used to visit the other sets when he had a day off and if it wasn't too far away or even on another island. Viggo did that as well, on his rare days off. Having him there was always a great source of strength and inspiration. Plus Viggo used to take tons of photos. The mirror in his trailer was already completely plastered with these priceless images. Dominic loved the pictures of Elijah. Viggo was able to take the most beautiful and captivating shots of him, making Dominic wish he himself had just a fraction of that talent and ability. Maybe, some day. A soft gust of wind caressed Dominic's face and he took a deep breath of the sea breeze before closing his eyes. He had written down quite a lot today, and his mind was still preoccupied, primarily with thoughts about one person. Yes, he loved watching Elijah act and he still wondered how Elijah hadn't been able to see how perfect he was for Frodo. Every time Dominic witnessed him working, acting his heart out and pouring everything into his role, he felt an immense amount of pride and admiration. How many months yet until they would see the complete result on the big screen? October, November, December and then another year. Fourteen months. He couldn't wait.

While he was still musing and contemplating, sleepiness enveloped Dominic and he gradually dozed off. He didn't know how long he had been sleeping when he woke up again, rubbing his eyes sleepily. He was surprised he had fallen asleep at all, on the beach, during the day. Sitting up slowly, Dominic blinked a few times as he looked into the distance. The sun had wandered a little further, but it wasn't setting yet, so he probably hadn't been asleep that long. He yawned and stretched and only then he noticed that the sheets of papers weren't on his lap anymore. The pen was lying beside him in the sand, but the papers were nowhere to be found. What the hell...Dominic's first suspicion was that someone might have stolen it, but he quickly dismissed that idea. Why would anyone steal it? In order to sell it to the media, the very secret diaries of the cast? Dominic frowned in confusion and raised a hand up to his hair, rubbing the sand that had gathered there out of it. A sudden bolt of shock shot through him and his fingers tensed up as his eyes widened. What if someone had indeed stolen the sheets and was reading all about him and Elijah right now? He hadn't mentioned his own name, but he had revealed all about Elijah's homosexuality and that he had apparently fallen in love with a man. Plus there were enough hints that made clear who had written it. Dominic let go of his hair and rubbed it over his heated face.

Various horror scenarios began forming in his head, but then something caught his attention. He narrowed his eyes and shielded them from the sun with his hand. What he saw almost made him laugh out loud in relief and his face broke into a grin. The wind was blowing several papers down the beach and into the water. Some were still flying across the sand, some were already floating on the surface, getting carried away by the light current. Soon all the sheets ended up in the sea, swaying on the little waves. He didn't have to worry after all. The water would make the ink unreadable and eventually vanish completely. Dominic gazed at the scene in pure and utter fascination, and surprisingly he wasn't bitter or sad that everything he had written today was lost now. He hadn't written it to read it over and over again anyway or to keep it for eternity. He had his memories that would stay with him forever. But there was something so fulfilling about the sight. An intense feeling of contentment, peacefulness and ease filled him. The ocean carried away his papers, his thoughts, his feelings, his hopes and dreams. They floated out towards the horizon and into the world, leaving him behind with all these treasures deep inside his heart. Dominic remained sitting on the sand and kept watching until he couldn't see one piece of paper left. Then he picked up the pen, stood up and got ready to drive home. He felt happy.